18
Jun
D.O.D.I. PROJECT 17 - JUNE MEETING - SAINT SULPICE-EN-PAREDS - WELCOME SPEECH
WELCOMING SPEECH
PUPIL 1 :
Welcome to D.O.D.I. PROJECT seventeenth edition. After Saint-Maurice-Le-Girard, Vouvant, Cheffois, La Tardière, Thouarsais-Bouildroux, Saint-Maurice des-Noues, Antigny, Mouilleron en Pareds, Menomblet, La Châtaigneraie, Saint-Hilaire de Voust, Bazoges-en-Pareds, Breuil-Barret, Loge-fougereuse, Cezais and La Chapelle-aux-Lys we feel very happy to meet you today in the commune of Saint-Sulpice en Pareds.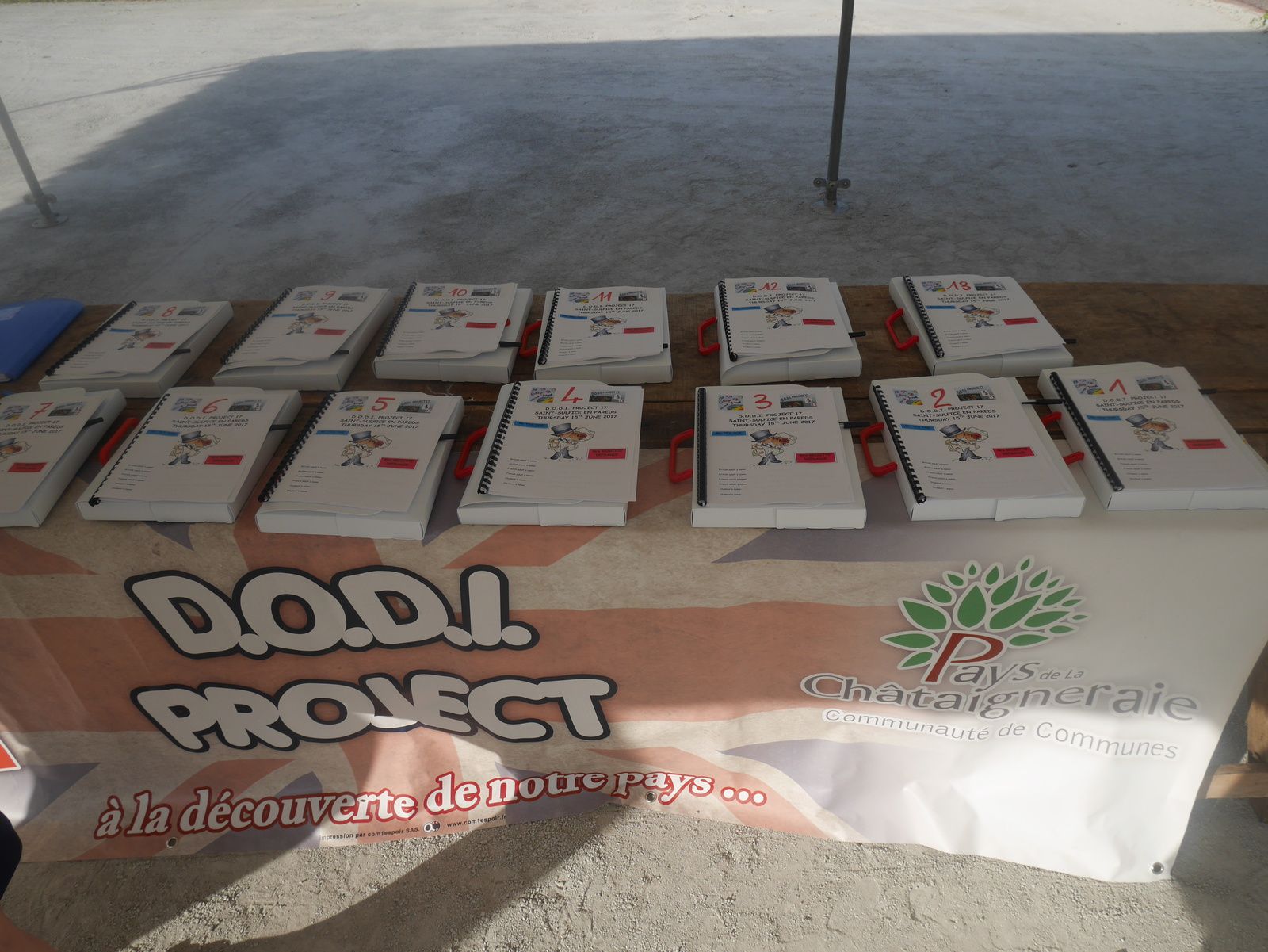 PUPIL 2 :
Since 2000 and the beginning of DODI, over six hundred students have met three hundred British people. They have asked and answered many questions, visited many places.
As regards our class, we joined the project last March. We sent you emails and the invitation cards.
We met you at school a few weeks ago. We spoke English and laughed at the same time.
We probably made mistakes but what was important was to speak your language.
Today, we are ready to speak English, sing in English and write in English.
PUPIL 3 :
What shall we do today? We can say that the day we are going to live together will be considered as a unique experience in the history of DODI. For the first time, we are going to celebrate a wedding and what is more a Franco-British wedding.
The bride and groom will arrive within one hour. But before, there's a lot do.
PUPIL 4 :
The day can't be possible without the help of local sponsors, some retired teachers and some volunteers. Thanks to all of them.
We must not forget that the project is possible thanks to :
The French seniors conducted by Mrs Guyonnet, the mayoress. They did their best to welcome us and introduce their commune. They have been great and have made many efforts to speak your language.
The twenty-four students from Collège Saint-Joseph. We started working on the project last March. We hope we'll be as good as our 3A classmates who were with you last March.
WE HOPE YOU WILL ENJOY THE DAY
AND WE WISH YOU A HAPPY WEDDING !